in defense of house music by Kamilah Apong
i just got back from a week long stay in Chicago, the birthplace of house.
i've been listening to, creating and performing house music for some time now. i used to say that i stumbled into house music as i grew up, but seeing as house music is the byproduct of Black, queer people - people a little like me - i think my relationship to it is more than accidental.
often labeled as "disco's revenge", house music grew out of of disco - and disco was a Black, gay, queer, Latin, art form that was eventually *co-opted by mainstream, notable white artists.* when disco took over the radio waves and became an entire cultural movement across America, disco demolition night occurred in Chicago in 1979. Steve Dahl, a shock jock on the radio, encouraged 50,000 attendees at a White Sox game to bring a disco record so he could throw it a dumpster and then detonate it in an explosion. admission for the game was under a dollar if you brought a disco record to blow up. reports state that people brought records by Black artist in general, no matter the genre.
the night ended up turning into a full fledged riot with police in tow, and the game was postponed.
this does not surprise me.
such a passionate campaign of hate to the point of forfeiture - that wasn't about music. that was a backlash to the uprising of Black, queer joy that had become a cultural movement that threatened the hierarchies of race and identity, where whiteness and binary understandings of gender and masculinity sits up top.
what happens to Black people and queer and trans people when under threat? we keep existing. we keep creating. we might have to retreat for safety, but we don't stop.
in 1977, the late Frankie Knuckles, often dubbed the Godfather of house, started playing at The Warehouse - the origin of how house music got its name. once again, Black, Latino, queers, and marginalized groups flocked to this tall, narrow building - now home to a lawyer's office - to feel free dancing and living all the very parts of disco that the mainstream wanted to demolish. the temporal shifts, the blackness, the queerness, the fluid yet repetitive natures, the drum machines, the heavy kick.
i got to visit it myself. i was told that Black communities and house heads alike have been fighting for decades to have this building designated a historic landmark, and city council only just passed this designation in June 2023.
i learned of these nuggets of history by spending time with Andre Gibson of Universal Togetherness Band, a veteran of the disco area. i used to cover his songs when i was in a disco/rare groove cover group. Andre showed me all around Chicago: we went to the jazz festival, a house music party (where i witnessed many Black elders getting down to classic house and techno - incredible!), art exhibits, we recorded together in the studio. he told me about his experiences after 5+ decades as a music professional. the time spent together was so comforting, exactly what i needed as i was experiencing a long period of burn-out after releasing my debut album with TUSH.
i could write an entire piece about what it meant to spend time with elder Andre Gibson, but i haven't yet figured out the words - more to come.
if you create house and dance music, if you DJ house and dance music, remember you have a legacy to upkeep: a historic movement created by Black queer and trans artists that dared to be bold in the music industry, long before Beyoncé and Drake. Black, queer, and trans artists that took the world by storm, and fought off many attempts to be extinguished by mainstream, hegemonic institutions, but kept growing new branches of resistance: on the dance floor at the discotheque, in a warehouse, at a basement party, on the south side of Chicago, in the grooves of a record, in the rhythms of the kick drum, in Detroit, in Europe, in Africa, all taking on different names and variations.
in the fight against city council for a lamp post sign and a landmark designation.
once you enter my house, it becomes our house, and our house music.
keep this in mind as halifax's house renaissance (a beautiful, beautiful thing) grows - i know i will be when i take the stage on saturday.
***
if you're just getting into house, there are many avenues you can take to explore - many different styles and subgenres. here's some classic cuts: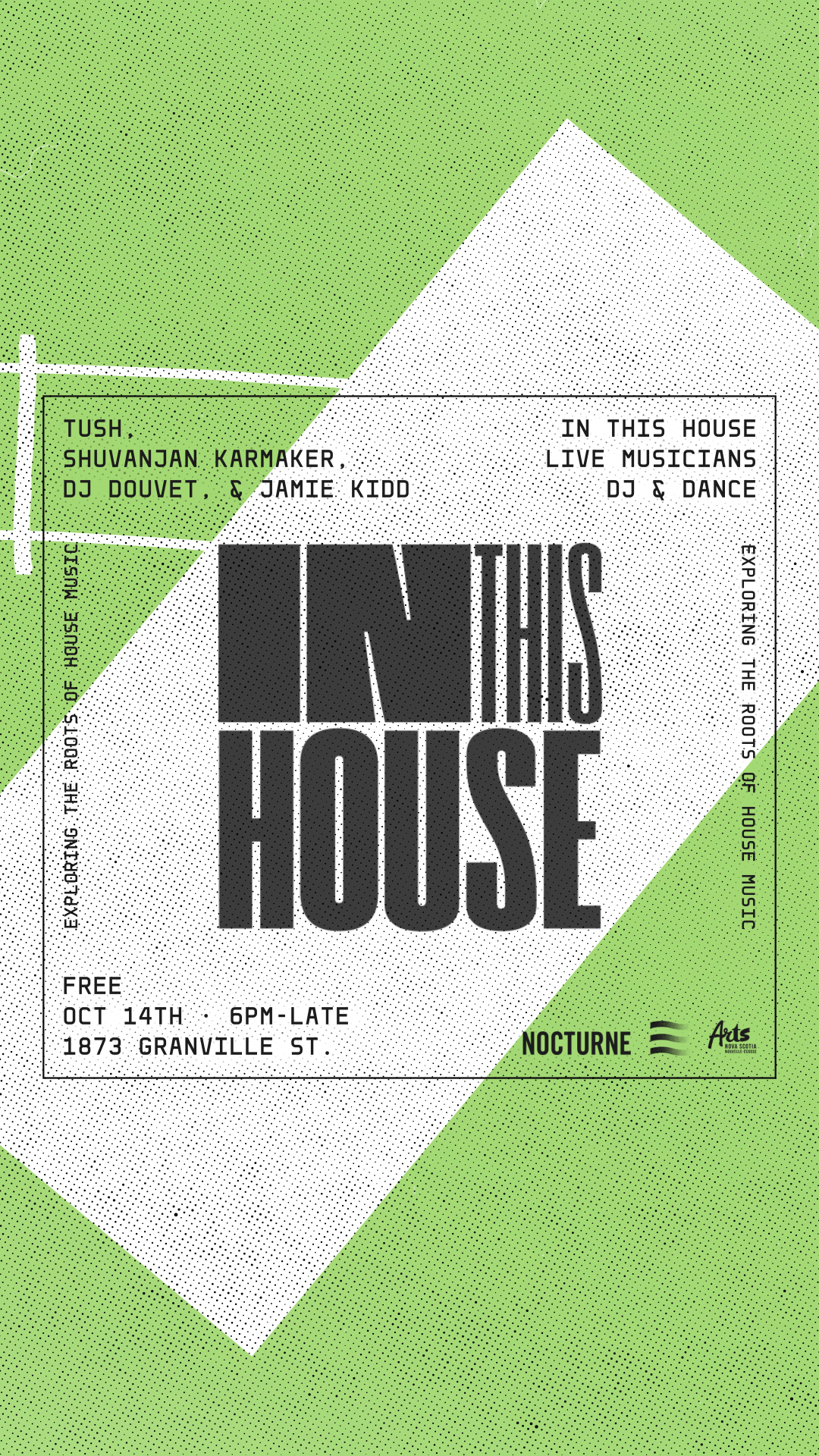 Blog written by: Kamilah Apong
Don't miss Kamilah at Nocturne this year: